FutureGrid
@

Chameleon

FutureGrid@Chameleon is a transitional phase allowing Chameleon users to use our legacy FutureGrid clusters, Alamo and Hotel. New Chameleon hardware and capabilities will become available next year. Please see our project schedule for more information.
Getting Started
See our Getting Started page for information on how to get an account, an allocation, and start using Chameleon. Users can currently manage virtual machines on our legacy clusters via OpenStack.
Recent News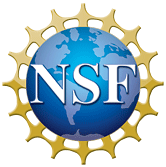 Read More
New users can now sign up for a Chameleon account and our Alamo OpenStack cloud is now available to all users!
Read More